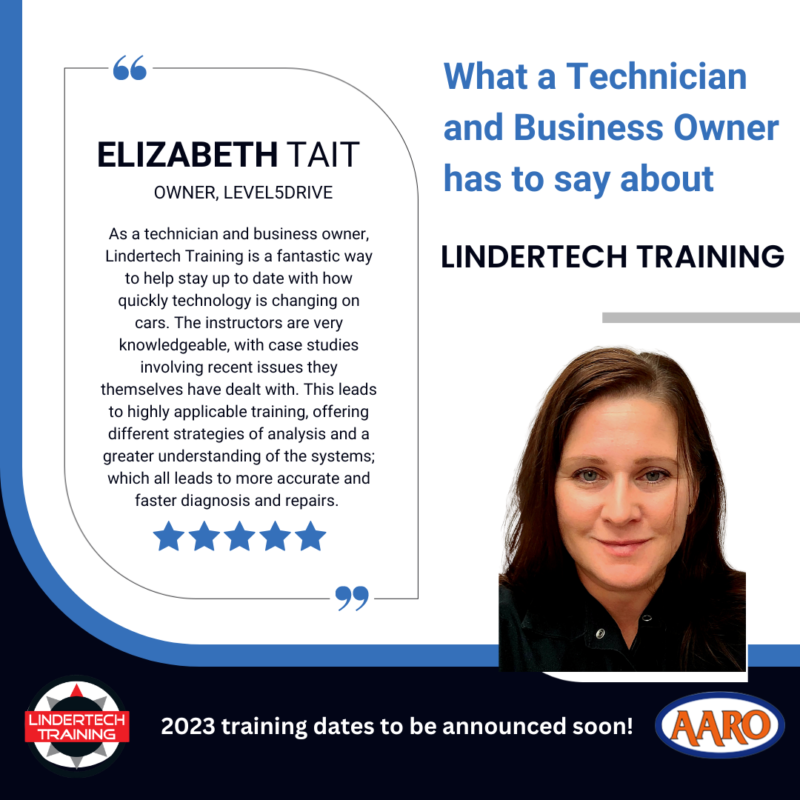 Training
Training Overview
AARO is committed to bring our members up-to-date regularly scheduled training. We offer a wide range of programs:
ODP Certification Training
Business Management Training
Hybrid Training
Diesel
Transmission
To find out more or to sign-up for courses, workshops or training, contact the AARO office 1-800-268-5400 or send us a message using our contact form.
2021 – 2022 Technical Training Webinars
Keyless Starting Systems Operation & Diagnosis
Keyless starting systems are in just about every make and model. These systems rely heavily on RF transmission of signals between Fob's and antennas. The security module is now an integral part of the starting system. This class looks at system operation and diagnostic techniques to help the technician deal with these systems.
Lab Scope Operating and Testing
Electrical testing of components is one of the most crucial skills that a technician can possess. Part of that skill set involves being able to use a lab scope effectively. This will be a live class using our engine simulator to explain how to use the scope and how to look at common signals and make decision on if the signal is good or bad.
Dual Clutch Manumatic Transmission
These transmissions present many challenges to technicians from testing to programming and calibration. This class covers operation of the solenoids and clutches used to control the shifting and gear engagement. This class is designed for all technicians regardless if you specialize in transmissions or not.
Advanced Case Studies Part 6
New case studies, different problems, different diagnostic techniques. All are covered in this class using case studies derived from our diagnostic business. Learn how we worked our way through these unique problems. This class does not require that you have attended and of our previous classes.
Ford Valve Timing Systems
Ford has had VVT systems since the early 2000's. This class will look at Ford VVT systems. We will cover operation and testing of the various components and use case studies to highlight diagnostic techniques and problems you may encounter with Ford systems.
Diagnosing Drivability & Trim Codes using Fuel Trim Data
Drivability concerns cover a lot of different areas of engine operation from fuel control to ignition and mechanical issues. This class uses scan data including fuel trim to help pinpoint the cause of the problem. We start with a standardized diagnostic approach to the problem and then use a series of case studies to help explain how to solve the issue.
Chrysler Pacifica Hybrid Vehicle Operations
The Pacifica is a popular hybrid vehicle. We will cover the various systems employed by Chrysler. This class will cover Operation and Diagnosis of the systems unique to the Hybrid drive. Scan data and service procedures will be included in this presentation.
Navigating & Using the VCDS VAG-COM Scan Tool for VW Audi
The VCDS VAG-COM is a popular scan tool for Audi and VW vehicles. This session covers advantages of the tool and how to navigate and use the various menus. We will cover how to use the tool for common functions such as reading codes and data then move into other areas such as coding and bi-directional controls.
Phase Brushless Motors Operation & Diagnosis
We are seeing more applications of these powerful electric motors. From Hybrid Drive Motors to fuel pumps. This class covers control signals, drive module and motor operation. Class will also cover how to diagnose these motors as they operate very differently than a conventional brushed motor. We will be using both voltage and amperage to assess the motors.
This class will cover all aspects of GM Stop Start systems. There is much more to the system than just the starter. Additional systems employed by GM on stop Start vehicles such as the Power Supply Transformer and Cabin Heat management will be covered in this class. We will also look at operation and diagnosis of the various components as well as scan data and bi-directional control.
2021 – 2022 VIRTUAL TRAINING VIDEO
In speaking to some of you about the webinar training program there has been a bit of confusion on how it will be delivered. To clear this up, our trainer Mark Lemay has put together a short video that explains this and the COJG grant.
Please take a few minutes and view the video by following the links below.
https://www.youtube.com/watch?v=VJDHh9aZ990
For class information and registration please follow the link below
https://form.jotform.com/203365772367260
The 2021-2022 training program qualifies for the COJC grant program which will cover up to 80% of the cost.
If you have any questions, please feel free to contact the AARO office 1-800-268-5400 ext 2.
Please note: You are still able to sign up for the full training season, the classes have been taped and will be sent to you so that you will be able to view them in their entirety.
If you have any questions, please feel free to contact me at the AARO office, 1-800-268-5400 ext 2.
IMPORTANT
For more information about dates, location and registration, please check our calendar of events.
Your pit stop for

industry news and community updates.
Subscribe to our Newsletter
© Copyright 1939 – 2023|Automotive Aftermarket Retailers of Ontario|All Rights Reserved|Powered by Hyos Inc