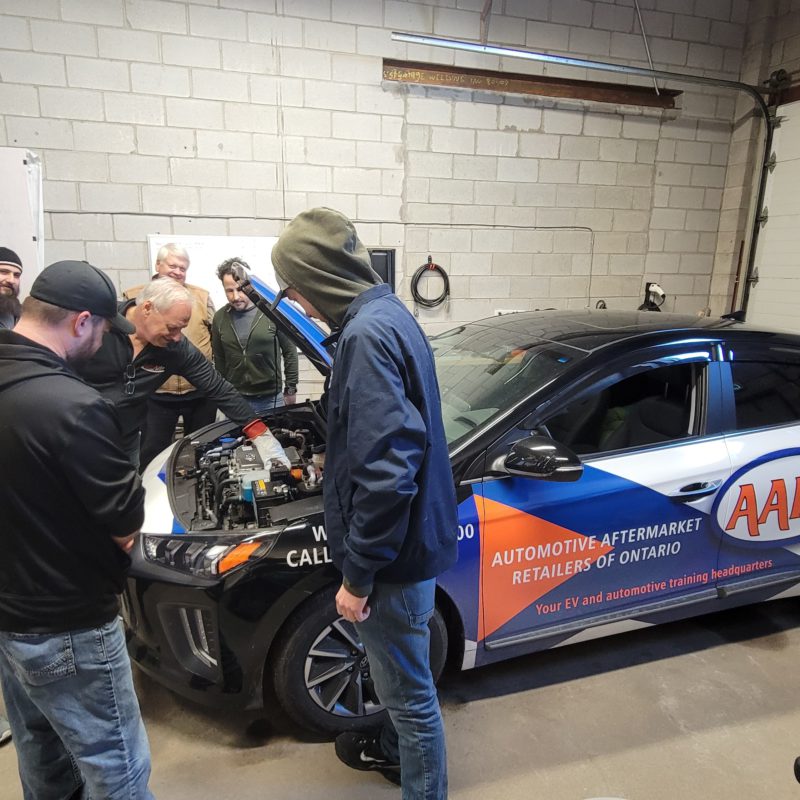 Training
Training Overview
AARO is committed to bring our members up-to-date regularly scheduled training. Working with our partners and leading trainers in the automotive industry, our members can take advantage of a wide range of training programs:
Technical Training Webinars
ODP Certification Training
Diagnostic
EV/Hybrid Training
To find out more or to sign-up for courses, workshops or training, go to the events calendar or contact the AARO office 1-800-268-5400.
2023-2024 Technical Training Webinars
Electrical Testing The Basics
Circuit testing continues to be problematic and yet it is crucial to being able to effectively get to the bottom of many problems. This class teaches a simple approach to circuit testing using DVOMs and Scopes. The techniques taught can be applied to any circuit and can be used to solve any circuit fault.
Advanced Lab Scope Features
Lab Scopes have many features beyond just being able to view signals. In this class we will look at some of these features such as math channels, graphing data, custom probes, reference waveforms and much more. This class will help you expand your scope skills
Parasitic draws can be hard to find. On newer vehicles just the act of pulling a fuse can wake the vehicle up wasting time while you wait for the vehicle to go back to sleep. In this class we look at the process for draw testing as well as techniques on how to trace the draw to a circuit or component. We will look at the equipment required and how to use it to properly diagnose parasitic draws.
Advanced Case Studies Part 8
New Case Studies, different problems, different diagnostic techniques. All are covered in this class using case studies derived from our diagnostic business. Learn how we worked our way through these unique problems. This class does not require you to have attended any of our previous classes.
Applied mostly to EVs but also used in some Hybrids, Heat pump systems are used to heat and cool the cabin. Unlike a conventional HVAC system that uses chilled air and engine heat EVs do not have this option. Conventional HVAC systems have been replaced with Heat Pump systems. This class will cover how these systems operate and how to troubleshoot problems.
Advanced CAN BUS Diagnostics
CAN Networks continue to cause problems, following diagnostic routines in the service manual does not always lead to a solution. This class takes an in depth look at how CAN BUS work and how to effectively troubleshoot the different failures that can affect network operation. Extensive use of both scope and scan tool will be employed throughout this class.
Electronically Controlled Cooling Systems
Like every other automotive system, electronics have been applied to the cooling system. Everything from electronically controlled thermostats to grill shutters will be covered in this class. We will look at operation and diagnosis of these systems.
How to Deal With Programming and Calibration Errors
It is almost impossible today to install a module or component without either having to program a module or perform some sort of calibration routine. Invariably things go wrong. This class will take a look at common programming and calibration failures and what to do when you run into these situations.
Gasoline Engine Turbocharger Testing
As engines get smaller, manufacturers are turning to turbochargers to get more power out of smaller displacement. This is good for emissions and fuel economy but adds a level of complexity to driveability diagnosis. This class looks at turbocharger operation, controls, scan data and how to properly diagnose low and overboost problems.
HV Batteries Operation and Testing
Every Hybrid or EV uses a HV battery to power the car. In this class we will look at both NiMH and Li-ion battery construction and operation. This class will cover scan data, testing techniques, equipment required and much more. Techniques that will allow you to evaluate the health of the HV battery and if the battery has a problem.
Webinar Training Schedule 2023-2024
The 2023 – 2024 webinar training program will consist of 10 webinars presented monthly on two  different dates to accommodate your schedule. Webinars will be run on specified Tuesday's at 4:00 pm and 7:00 pm and on specified Saturday's at 9:00 am.
Please note: Classes will be recorded and will be sent to you so that you will be able to view them in their entirety.
Click here to download the complete schedule of dates and description of training.
AARO MEMBERS SAVE 10% OFF THE REGISTRATION FEE
Enter code NWR02 when completing your registration for this webinar training program.
The 2023-2024 webinar training program qualifies for the COJG grant program.   
To be eligible for the Canada-Ontario Job Grant (COJG), potential training candidates must meet the following requirements:
They must live in Ontario and be either a Canadian citizen, permanent resident, or protected person.
They must be employed by your business or have received an offer of employment.
They can't currently be taking a full-time training program or any other government training that offers funding support.
They can't be the business owner or shareholder.
To apply for the Canada-Ontario Job Grant (COJG), employers must complete an online COJG Employer/Application 1. If you need help completing your COJG Application, please contact the Employment Ontario Contact Centre. Call toll-free (no charge): 1-800-387-5656 or through the TTY number: 1-866-533-6339
If you have any questions, please feel free to contact the AARO office at 1-800-268-5400.
IMPORTANT
For more information about dates, location and registration, please check our calendar of events.
Your pit stop for

industry news and community updates.
Subscribe to our Newsletter
© Copyright 1939 – 2023|Automotive Aftermarket Retailers of Ontario|All Rights Reserved|Powered by Hyos Inc